Preparedness is important before any disaster hits. Don't let you and your family get killed mercilessly in an unexpected event without a fight. You can do something to protect your family and survive. Be equipped with necessary emergency supplies to survive any disaster that will strike. What do you need to prepare in case a disaster hits the globe?
Water
It's true that people can go on for a week without food but can't go on for days without water. Secure as much water as you can. Be aware on how to filter, distill, and disinfect water in case you run out of water supply. Information is available all over the internet so it won't hurt to research on the procedures to perform water purification. Make sure you have water purification tablets for they will come in handy and good water container to store your water for a long time.
Food
When storing food, you need to consider the length of time before it expires or spoils. It is best to store non-perishable goods because they can last for a long period of time. Always check for expiration dates before making a purchase.
Lighter
Lighter is necessary to start a fire. If you can store wooden matches and candles, the better. Like bottled water, emergency candles and wooden matches are also a must-keep in times of emergency. They will provide light source especially when wood to create fire runs low.
Axe
You need wood to start a fire to be able to cook food and provide warmth in a cold night. If you have a good axe, you can turn everything into a firewood. Make sure to obtain a durable yet lightweight axe because higher chance is you'll be carrying it as you move.
First Aid Kit
Having a well-stocked first aid kit is important in times of disaster. Make sure you have painkillers such as Ibuprofen, alcohol, cotton balls, bandage, drugs that would treat common diseases such as cold and cough. The last thing you want in times of disaster is to fall sick, so it is really necessary to have a first aid kit.
Radio
You need to have a radio to be aware of what is going on in your surrounding and know if there are announcements from the authorities. Secure some batteries as well to keep you updated on the events and the status of your nation.
Flashlight
Secure at least 2-3 flashlights that can withstand huge amount of moisture and is durable enough not to be broken when you dropped them. If you have more cash, you can invest on a headlamp so you can multitask such as cook and explore in the dark.
Knife
Knife is a must-have tool in times of emergency to open cans, cook food, cut wood, and hunt for food. You can also use it to create a weapon such as a bow to protect your family from animals in the forest or even people who will try to get your supplies.
Gun
It's better safe than sorry. People will fight in order to get the last stock of food or water in a supermarket. Expect attack from hungry fellowmen who will try to rob your supplies. If you are equipped with a gun, they will think twice before they attack. It is important that you protect yourself from harm when disaster strikes.
     10. Warm Clothes
When disaster strikes, you and your family may not have a choice but to move out from home. Make sure to bring warm clothes to keep you warm in case you need to start your voyage in wilderness. This will also prevent you from catching a cold and other weather-related diseases.
Click here to prep yourself even further for the dangers ahead…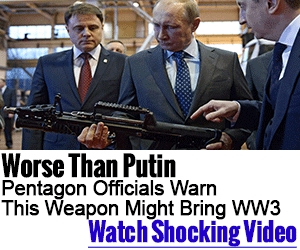 Comments
comments