It's one thing for our homes to be burglarized—but it's completely another for us to live through a violent home invasion. However, in spite of how uncommon they are, they do happen regularly, so you absolutely must know what to do in this kind of situation. Here are 10 tips to help you preserve your life—and those of your family members.
1- First, a word of precaution: don't ever open the door to someone you don't know.
It doesn't matter who's knocking at the door—whether it's a mail carrier, a pizza delivery girl, a man from the utility company, or even an adorable, harmless-looking child. Burglars will use any disguise known to man to gain access to your house.
2- Go inside your safe room.
Burglars won't always mind whether or not you're still in the house. If they haven't discovered you, go find your family—don't make noise, since you don't want them to know your inside the house — get your firearm (if you have one) and get everyone together into one room. It may be a traditional doomsday bunker, or it might just be room in your house that you've agreed will be the safe room. Close and lock the door; make sure the gun is constantly being pointed at the door
3- Wait inside the safe room until the invasion is over.
Don't wait until you think it's over—it literally has to be 100% over. The attackers might be waiting for you, saying nothing, because they want an opportunity to antagonize you.
4- Don't threaten a burglar with a weapon, unless you think you haven't got any other choice.
It's best not to rile them up if you can help it. On the same note, don't chase after them if they run away.
5- If you have a gun, use the fatal funnel method.
Get yourself positioned in the corner of the safe room that's opposite the door. This position gives you more time to decide a course of action if the shooter comes in.
6- Don't follow the intruder once they've gotten outside your house.
That's the police's job, not yours. Don't put your own life at risk because you want "vengeance."
7- Use the automatic dial function on your phone.
This function is used to call 911 on speakerphone, and will allow the police officer to listen to everything that's going on. Many landlines and cell phones offer this feature.
8- Don't let the burglars move you unless it's a situation of life and death.
This includes ATM machines where you can pick up the money. This ramification exists because the second crime scene, committed after the first, tend to be more dangerous.
9- Don't make agreements to be tied up, manacled, or put inside a truck.
These kinds of agreements will ensure that you have fewer options for self-defense; the burglars don't actually care about your safety.
10- And finally, learn to keep calm.
It's difficult, but not impossible, to keep calm during a violent home invasion. You can prepare by role-playing scenarios, imagining escape plans, and reading books on the subject. This way, you'll know more about what you should react in such a situation, so you can defend yourself better.
Learn to protect yourself better by watching this presentation!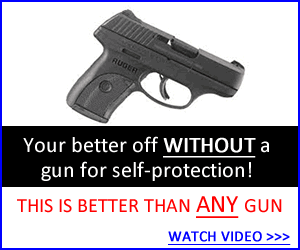 Comments
comments