Want to protect yourself from stalkers—both cyberstalkers and real-life stalker? Remember: anyone can be a stalker or cyber-stalker, even a friend or family member. There's no limits on age, ethnic orientation, or gender identity. So we should all protect ourselves from stalkers. To do so, here are 10 helpful tips.
Protecting Yourself from Cyber-stalkers
1- Don't give out info about yourself to people you meet online.
Whether these people are potential partners or pen pals with the same interests as you, don't give them your last name until you've actually met them in person. If you're meeting them in real life for the first time, go with a friend, and make sure you meet in a public place. Don't have them come over to your house—and don't go to theirs.
2- And speaking of social media, keep your profiles private.
Ensure that people you don't know don't have access to your Facebook posts, comments, and likes. You never know who might use this data to try and stalk you.
3- Protect your online accounts with a variety of different passwords.
You must have a unique password for every online account. That way, if (knock on wood) someone does manage to get into one of your accounts, they won't have access to the others. This way, you can protect your money and your cloud-based data. Change them regularly, too; every 45 days is a good interval.
4- Don't accept friend invites from people you don't know.
It doesn't matter how attractive or charming they might appear: people you don't know present a clear and present stranger danger.
5- Does it seem like someone is cyber-stalking you right now? If so, act quickly.
Sometimes, you can't prevent things—you have to work to fix them instead. If it seems like someone is cyber-stalking you, record what's happening; keep track of messages, e-mails, and anything else that can serve as a record. Save screen captures of the images and text files, in case for some reason they get deleted. Set all your information to private, eliminate your personal details from the Internet, and report the website—as well as your bank and credit card companies, if money is involved—immediately. Contact the police as soon as possible.
Protecting Yourself from Regular Stalkers
6- Don't put personal identifying information online, outside of social media.
Even if you're talking anonymously from the comfort of your computer screen on the smallest forum out there, posting identifying information—like names, locations, and places you've worked for or gone to school—on the Internet isn't safe.
7- Google your name (plus your location, if your name isn't unique) from time to time.
You can't know what kind of cruel, demeaning, and slanderous info there is about you on the Internet unless you check.
8- Learn self-defense techniques.
Self-defense is a valuable skill to have for every person; you never know when it will come in handy—but when it does, the situation is the most dire.
9- If someone wants to go on a date with you, be decisive in saying no.
It's said that stalkers will misinterpret your politeness as you are interested in them. Instead, give them a direct, assertive no.
10- Trust your gut.
If something seems off to you, remain alert and leave as soon as possible. Your gut is often correct: it can interpret strange body language and tones of voice in ways that you might not be able to.
Learn to protect yourself better by watching this presentation!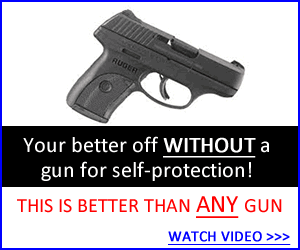 Comments
comments