If you and your family need to survive in a time where everyone is rioting and looting, then your work is certainly cut out for you. However, you don't need to panic: there are actually many things you can do to deal with such a situation. In this article, we'll have a look at 5 such ways.
1- Prepare beforehand.
Preparing beforehand entails a number of different things: gathering items that you'll use for bartering (spirits, batteries, sundries like toilet paper and soap, flashlights and candles), stockpiling some cash in case you can't get to the bank, and teaching your whole family basic survival skills. It is thanks to this prior preparation that you'll be able to come out of this thing intact, safe, and as secure as you can possibly be in such a situation.
2- Develop an evacuation plan.
This is another important step of the above-mentioned preparation process. In order to do this, go over the various parts of your house and your town with your family. Decide how you'll escape the house and your area, what kind of preparation you'll need, and where you'll go. You must implement the plan as soon as disaster hits, so that you can maximize your safety. However—depending on how severe the situation is outside—a lot of time, you won't even need to escape the house. Regardless of which case applies, your whole household must know where the supplies (including weapons) are, and how they can access them quickly and quietly.
3- Your house must look like it's empty.
In times of looting, you can bet your boots (or your bottom dollar) that people will try and loot your house. To account for this problem, turn off the lights, remain as quiet as possible, and don't go near the windows, and above all don't answer if anyone knocks at the door. People might try to break into your house if they see this, of course—but you'll have the advantage of surprise. During the fighting—if there is one—keep children, the elderly, and pets out of the fray. Once you've neutralized the rioters, repair the doors and windows right away; these are weak points that no one must be able to penetrate.
4- Escape the area in a fast, efficient, safe way.
You can't possibly account for everything that might happen in such a situation, but you can definitely account for your escape. When you leave, make sure you've got enough stuff—food, water, first-aid kits, firearms, and of course your bug-out kit—to sustain you for at least two weeks. When you leave your house, lock the windows and doors after you. When you leave, turn off all devices that can report to others where you are—devices like cell phones, GPS systems, On-Star-enabled devices, and others.
Leave the house around dawn, since this is when civil unrest tends to slow down. After you've left, stick to the secondary roads until you arrive at your destination, as covered in your emergency plan. Stay at that location until you finally know it's safe to go back home.
5- Be alert and ready for anything.
This entails being very quiet. You can't, after all, incite the rioters—and, given the time of crisis that will be happening, any small movement can incite them. Don't yell, scream, or taunt anyone. When you do manage to leave, stay invisible, and keep to the shadows so that no one discovers you. Moreover, avoid masses of people who are rioting at all costs. If the police captures them, they'll arrest you too—even if you were simply in the wrong place at the wrong time.
Learn to protect yourself better by watching this presentation!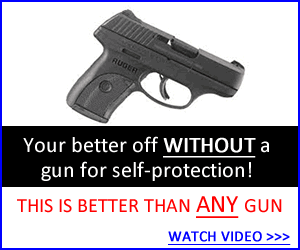 Comments
comments