Today, many terrorist attacks were averted due to observant ordinary citizens who noticed something and alerted authorities, which led to the foiling of the terrorist plot. Here are signs you can look for before an attack.
Surveillance: recognize signs of possible attackers
Recognize these tell-tale signs: (i) someone monitoring or recording a security apparatus; (ii) a stranger using the camera on his phone, a camera, or binoculars; (iii) someone drawing blueprints, diagrams or detailed maps: and (iv) someone taking pictures of ordinary objects, such as doorways, entrances, backdoors, exits, or CCTVs.
Elicitation or gathering information
Before an attack, terrorists gather information about a potential target. Report any kind of elicitation. Elicitation uses ordinary methods of communications to gain sensitive information. If you know about capabilities of the military, military operations, procedures of security or scanning vulnerabilities, report immediately persons who try start a conversation on any of those points. If you find yourself speaking of sensitive issues to a trusted friend, beware of eavesdroppers.
Terrorists question about security issues and try to exploit all information regarding existing security in campus, mall guard safety or transport capabilities. Report any kind of security tests like someone leaves a bag, then comes back to check on it or surveying it from a distance. This is their way of checking on the security operations of a place.
Stockpiling happens when large quantities of lethals are bought. Notice also unusual forms of payment. Purchasing supplies and using prepaid card containing a huge amount of money might mean that the card comes from a big organization of terrorists. If you notice someone who comes into a store frequent and he purchases ammunition, bomb-making materials, explosives or weapons, you may be watching a possible terrorist. Supplies to make bombs can be bought as fertilizer or beauty supplies.
Study profile of potential terrorists
Keep an eye on strangers who act nervous and out of place. Ordinarily, someone who sweats, glances around anxiously, or in a panicked state may be hiding violent intention. Be suspicious especially of any person who is out of place, attired in matchless uniform or who does not act right, or who seems like a stranger in the place. Anyone attempting to purchase badges, decals, flight manuals, military or police uniforms or passes is dangerous as these may be used to access secure locations.
Recognize impersonators and watch out for solicitors of donations for charities unknown to you; workers wearing incomplete uniforms or uniforms that don't fit, or anyone presenting incomplete or false documents.
Be aware of ALERT.
A potential suicide bomber exhibits these signs that US government referred to as ALERT.
A – All alone and nervous who is sweating and eyes darting around, mumbling something unclear.
L – Loose and bulky clothing not attune with weather conditions. Someone strangely overdressed, or have something concealed beneath the clothing.
E – Exposed wires sticking out of clothes could mean a bomb.
R – Rigid mid-riff. Due to wearing an explosives belt or harness, the terrorists sit very upright in an unnatural posture.
T – Tightened hands are dangerous as he may be holding a detonation device in place.
Your ability to see these impending signs will go a long way in saving lives and catching a terrorist!
Click here to prep yourself even further for the dangers ahead…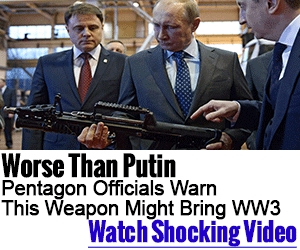 Comments
comments