Sometimes you might get a bit down. Life might just not be going your way, as if it's not your day, your week, or even your year. Many people fall into depression during such rough times, but that is not the way that you should handle it. You should keep your head looking forward because we all know that there is light at the end of the tunnel, you just have to be able to get there. One thing that remains unchanged even during tough times is things such as birthdays, anniversaries, and such. Even during the roughest times, you should not forget to celebrate every little great thing and here are some ways that you can do this.
Select only inexpensive things
When you are selecting things for a special occasion, make sure that you are selecting only inexpensive ingredients. It's important to watch your health, but during tough times you might want to be less picky and choose the things that you can afford. Use the most inexpensive things in a smart way so that you can make them unique and memorable. Even a couple of white candles can be made great with just a few touches, all you need is a little imagination.
Make food that is of their favourites
In order for the person to have a good time during the rough period, make sure that you make food that is of their favourites. If they are really into chocolate, try making a chocolate birthday cake. With some effort and preparation, you will be able to accomplish it. If you want to have access to good stuff, be on the lookout during the whole year so that when something is really cheap, you can afford it. This way you can make up a stash of foods that you might want to eat from time to time and you won't have to pay any money for this.
Be considerate and thoughtful with your gifts, it doesn't need to be expensive
When celebrating a birthday or an anniversary during tough times, it's always good to remember that expensive gifts are not always the ones that are most appreciated. Sure, the person might love to get a new coffee machine, but if you do not have the funds, you might try making something more memorable and practical. Think of something that they have always adored or admired and try to bring it to them in a way. For instance, if you have a child who is a big fan of Spider-Man and you are a good artist, try drawing a picture of him for the child's birthday. It surely is not as much as a new toy, but in tough times it might be just enough to make the kid smile again. Be considerate and thoughtful with your gifts and you will end up having to spend much less money than you initially thought.
Get something that will remind you that the occasion is special
Another thing that you can try to celebrate the good times is have something that reminds you that the occasion is special. For example, if its Halloween or Christmas, why not have a special celebration such as going to a fast food restaurant or having some candy. It surely won't be as much as you would want to give yourself or your family, but it is still something that marks the occasion and it shows that it is more than just any other day. Who knows, maybe this can even turn into a tradition even after the rough times have passed.
Save up for special occasions so that you can get your special someone a gift
When the tough times are upon you, each cent counts, but still you can try saving up some money each day for a special occasion. For example, if your partner's birthday is in 4 months, why not start saving up some money each day so that when it comes closer you will be able to get them a gift that they deserve. This is a big sacrifice from your part but it will be worth it when you see their happy face when the gift is presented.
In the end, keep in mind that even the toughest of times will eventually come to an end. There is nothing in this life that goes on forever, so all you have to do is be patient and willing to sacrifice some from time to time, and you will see that sooner or later it will all pass and only remain as a painful memory that shows your great courage.
Don't be caught off guard by the financial collapse. Watch this video and be prepared!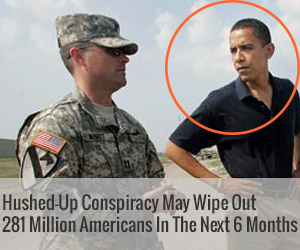 Comments
comments