Did you know that most burglars won't spend more than 8 to 12 minutes inside your house? Or that most burglaries happen between 10 in the morning and 3 in the afternoon? Or that, knock on wood, the average burglar only needs about a minute to break into your house?
Now that I've sufficiently terrified you, you might be wondering what steps you can take to theft-proof your house. Well, the reality is, this is no laughing matter; most homeowners have reported burglaries at some point, and no one can ever be 100% safe. Nevertheless, there are definitely some simple things you can do; in this article, we'll walk you through 5 of them.
1- Ensure that your home appears to be occupied during the day.
As we said already, most burglaries happen during the day, when the adults of the house are out at work. Thus, to avoid this, you can set your TVs, lighting, and other devices on random timers so that they'll turn on and off throughout the day. Another thing you can do is (if you have a second car) park that car in the driveway when you're not away at work.
2- Install an excellent home security system.
No matter how many times you'll hear this advice in your life, it bears repeating: need a great security system to make you safe. Oh, sure, it's not foolproof; but then, as we already said, nothing ever is, but a good security system will help protect your things from random break-ins. It will also give you footage of break-in, in case you've installed a video camera. Your system should include loud alarms for your windows and doors as well, since these are points of entry for potential thieves.
3- Theft-proof the features and devices in your house.
Many deadbolts can be easily lock-picked by a skilled burglar, so deadbolts with specialized locking systems—one example is the SIMLock—will help you in this regard. Moreover, your door's weak spot is the jamb, so you'll need to reinforce it with a heavy-duty strike plate.
4- Invest in a safe.
Safes aren't just for banks anymore, but that doesn't necessarily mean you'll need the same kind of box they use at your favorite Swiss financial institution. Instead, the kind of safe you put inside your house can be shaped like a cylinder, although wall safes are also available. You don't need a big one, either; you can get a small, high-quality one for 100$. Some safes offer fire protection (an incredibly handy feature), while others offer the possibility of being opened via your fingerprints. In both cases, you have to bolt the safe to the floor so that it stays nice and, well, safe.
5- Use a lock box to store spare keys.
Ideally, we wouldn't have to store keys inside a lock box (it makes things way too obvious for the criminal who knows what they're doing), but you need an out in case you ever get stuck on the wrong side of a locked door. Thus, purchase a quality combination lock box. Use screws to attach it at some location at your house where no one will notice it, such as on a fence post.
Now that we've taught you five tips of keeping your home safe, we hope (though we can't guarantee) that you're slightly less terrified. These tips will definitely help you in case such terrifying scenarios play out—but, thanks to the safety measures you'll have taken on, these scenes will hopefully never play out to begin with.
Don't be caught off guard! Watch this video and 'arm' yourself to the teeth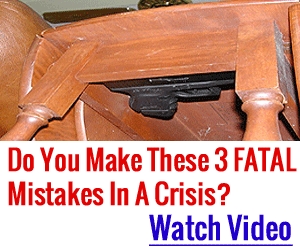 Comments
comments