We are living in a time that is filled with uncertainties. Natural calamities and other types of emergencies can happen anytime. The best thing that you can do is to be prepared when confronted with the unexpected. Be a prepper or a survivalist – someone who is always ready and who makes preparations in advance. Below, we will take a look at the 8 types of people who we can consider as survivalists.
Medical Maven: You are not necessarily a doctor, but you have extensive knowledge when it comes to handling medical situations. You know CPR, and you always have a first aid kit. Treating wounds and bruises are easy for you.
Economist: You are wiser when it comes to financial concerns or wealth in general. You make valuable investments in the stock market. You believe that an economic collapse will happen any time, and when such happens, you are prepared for the repercussions.
Know-it-All: You are a smart prepper. You know a lot of things, especially when it comes to technicalities. Some people might even find you to be intimidating. When confronted with an unfortunate situation, you will most likely direct others and not be amongst the one to be actually taking an action.
Hoarder: You will always run short on food – this is your belief. To be prepared, you are always fully stocked with the basic foods and drinks, fearing that you might go hungry one day. You are most probably skilled as well in spotting the latest deals, especially in the grocery.
Self-Defender: You are serious about training in martial arts. You are fit, and you are looked up by your friends because of your defensive skills. You are more focused on thinking about how to survive a fight.
Tactical: You have guns and ammo at home. You see uncertainty exists in the form of war. You believe that your gun skills will be your greatest defense against the unfortunate situations that you can possibly experience in the future. You do not fear going to war.
Religious: Prayer is your best weapon. You believe that religion is going to be your savior. You most probably have a prayer book and a rosary in your bag all the time. You even know the saints to call in case of a bad situation.
Camping Nut: You love being in the outdoors. You are skilled in setting up tents, cooking without a stove, and improvising on almost anything. You are knowledgeable about how to tie a rope and handling campsite emergencies.
What type of survivalist are you? Do you fit in any of the descriptions above? If not, do not worry. These are just some of the most common ways to categorize survivalists. They exist in all forms!
Don't be caught off guard by the financial collapse. Watch this video and be prepared!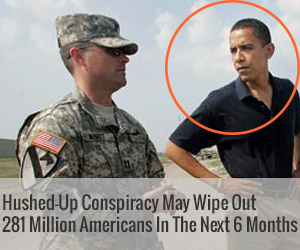 Comments
comments