DIY security systems are a safe way of securing your home. It also helps you monitor your environment on your own. All you need is to get any DIY alarm monitoring, install the system and have a technician assist you with the rest of the work.
The DIY home security system is not necessarily expensive; they're affordable, and the companies that offer professional monitoring services are affordable as well. But on the other hand, you don't even have to pay for a professional installation to make your family and home secure, if you have the time, you can do the monitoring yourself. The newest and current home security systems are so simple that you can install one on your own and monitor it from your computer or smartphone. There are available user-friendly DIY home security systems you can use with your smartphone which is easy to set up.
Good home security systems are easy to setup, have enough battery backup, and multiple doors and window sensor. Choosing a good DIY home security system for your home comes down to several factors, including easy to use, to install and how good the system is.
DIY starter kits include the following;
Motion detectors (which inform you when there is a threat in or around your home)
A key fob (which is for you and your family to easily access the system.)
IP Cameras (To help you deter criminals or capture images in case of a break-in.)
Security and Monitoring
Good home security systems have extensive selections of equipment, which include cameras, sirens, alerts and motion detectors. This enables you to secure and monitor your home and allow you to add any extra numbers. It also lets you arm or disarm alarms quickly and for you to get in and out of your house with ease. DIY systems with wireless peripherals are most easy to customize and expand. Most DIY security systems come Internet-enabled via Wi-Fi or an Ethernet cable which let you monitor your property from anywhere with your smartphone or any other smart device.
Setup and Equipment
When a DIY system is relatively easy to install, it starts to secure your home immediately. Every DIY system takes less than 30 minutes to install, and the highly-rated DIY home security systems, usually scout, push notifications to the tester's phone while setting off a loud siren if the system's alarm turns on.
Although a lot of home security systems have alarms or sirens, you can get a siren separately. When purchased, place the siren close to doors or windows to maximize the sound, which can hinder potential intruders or alert you to a possible break-in.
DIY home security is a budget-friendly way to make sure that your home, valuables and family members are safe.
Don't be caught off guard! Watch this video and 'arm' yourself to the teeth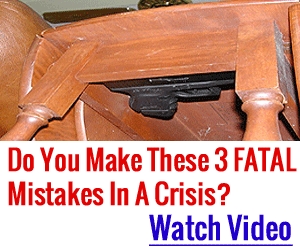 Comments
comments