Having the right emergency supplies is important as they prepare you for disaster. The problem you may face is how to protect your supplies from moisture. Stored up supplies can be destroyed by moisture particularly when stored for a long time. Dried food that is stored can become stale. Metals and electronics can rust, and other supplies can be affected by bacteria growth all as a result of moisture. Moisture can also affect clothes and woods supplies.
The damage caused by moisture can only be seen when you open the container. It is, therefore, advisable that you check your supplies regularly, and not wait until the last minute when you need them.
Realistically, it may be difficult for you to cultivate the habit of checking your supplies regularly. So, it is better if they are stored in a manner that guarantees a long-term protection from moisture.
The following are useful tips on how to protect your emergency supplies from moisture:
Coat them with oil– your emergency supplies that are metals are to be lightly coated with oil. You do not need to coat them with oil heavily. Since oil and water don't mix, the oil will protect your weapons, cooking tools, and other equipment from moisture by acting as an effective barrier.
Use paint– paint is also good at absorbing moisture. So, painting your equipment and tools is a perfect way of protecting them from moisture. Dip your tools in paint, and then air dry them by hanging them. Note that only oil-based paint can absorb moisture. Latex paint contains water and can cause your tools to rust.
Make sure your storing containers are airtight– the containers you use to keep your food supplies must be airtight. This will protect the food from moisture and extend their lifespan. Airtight kitchen containers, five-gallon buckets, sealed commercial cans and canning jars can be used.
Make use of silica gel– silica gel can naturally absorb moisture and can, therefore, protect your supplies from moisture. Put the silica gel packets or tablespoons of silica gel in the airtight container containing your food supplies. It will ensure they maintain their freshness and remain moisture free. The silica gel is safe, but when it is mixed with certain chemicals they can be dangerous to health. So, you must be careful and ensure that the pack remains unbroken.You can purchase silica gel and silica packs in the market. You can also take and keep silica packs from packages you receive.
Use sugar and salt
Sugar and salt can be used in protecting your supplies in the absence of silica gel. They absorb moisture well, although not as much as silica gel. You may add one or two tablespoons of either sugar or salt to your food before sealing the airtight containers. You must ensure that the containers are sealed tightly particularly when you use sugar to avoid attracting ants.
Don't be caught off guard! Watch this video and 'arm' yourself to the teeth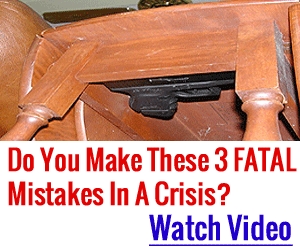 Comments
comments