The world becomes shattered when a loved one dies under tragic circumstances. When you consider that the death of someone that was expected to pass away is still a shocking, traumatic event, that experience is far more intense when the person who dies was in reasonably good health. There is no time to prepare which makes the impact of the death much worse.
The sudden, unexpected loss of a loved one may cause issues as severe as Post Traumatic Stress Disorder (PTSD) as well as feelings of anger, guilt, depression, and even hopelessness. When the death happens in a crisis situation such as a natural disaster for example, it can bring about complications to how you feel which may lead to experiencing traumatic grief.
The Complications of Traumatic Grief
This type of grief can be difficult to deal with, particularly if the conditions which caused the death are continuing such as being in a natural disaster. This is especially true for those who were present with the person at the time of their passing.
Of the many complications that can be suffered, the most troubling is when the mourning process becomes complicated. This is when the survivors are delayed or even fail to experience the mourning process in the proper manner. Such losses may require seeking professional assistance from those knowledgeable about how to help people undergoing the process.
However, in an emergency situation there may not be the time initially to fully engage in the mourning process. It is important to recognize what has happened and start taking the steps so you can move on with your life.
How to Move On
There is no magic cure or instant solution that will help you get through the grief and healing process quickly. Everyone moves at their own rate, so you will have to do the same and engage in the following activities.
Maintain your normal routine.
Get plenty of rest
Exercise
Eat well
Consume plenty of water
Do not drink alcohol to mask the pain you are feeling
Take it one day at a time
By maintaining your routines, your mind will eventually process the experience of losing a loved one by moving through the different stages of grief. Since everyone goes through the process differently, it may go by relatively quickly or take a long time. However, by maintaining your normal routines which is very important, you can remove any roadblocks to the process of grief and experience the healing process the way it should be.
Consider that if you are still in a crisis situation, such as a natural disaster that has yet to fully run its course, the mourning process will be delayed. Once the initial crisis has passed and you return to normal life, then it is very important for you to start again your normal routines, get plenty of sleep, and eat properly so that you can get through the healing process the right way.
Don't be caught off guard! Watch this video and 'arm' yourself to protect your loved ones.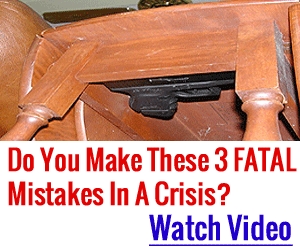 Comments
comments