An Electromagnetic Pulse (EMP) attack may destroy all your electrical devices, including your computers, smartphones, vehicle electronics, and even radios, televisions, and toys. An EMP strike would cripple the ability of people to move about, find out information, and even stay safe in their own homes.
However, there is a simple, almost old-fashioned device that protects electronic devices from an EMP attack and having one in your home will give you the edge in case this type of disaster occurs. A Faraday cage can protect all the contents inside from an EMP strike and allow you to use crucial electronic devices.
What is a Faraday Cage?
It is a sealed cage that has an outer layer which conducts electricity. The shape of the cage does not matter if it is enclosed. Such devices have been around for decades, but recently it was discovered that the contents inside a Faraday cage was impervious to electromagnetic pulses. This is because the cage itself may absorb, conduct, or create an opposing field to an incoming EMP attack. The energy from the pulse will wrap around the cage and dissipate, not penetrate it.
The cage itself can be quite small and hold a single device or be large enough to protect an entire room. The larger the cage, the more materials you will need to absorb and deflect the pulse.
How to Build One
The good news is that building a small Faraday cage requires a few pennies worth of material, most of which you probably have in your home. To create a small box that will store smartphones and similarly sized electronic devices, you will need the following;
Heavy duty aluminum foil
Shoebox or cardboard box
Galvanized steel trashcan
If you have a shoebox, simply wrap it and the lid with at least three layers of heavy duty aluminum foil. You can also wrap the individual devices themselves with foil, such as those you may want to use as emergency phones. The three layers of foil will be enough to dissipate even a strong EMP charge. However, it is not fully impervious and that is where the galvanized steel trash can come into play. By placing the box wrapped in foil inside the steel trash can, it can withstand a very powerful strike.
To protect a room, you can line it with aluminum foil from top to bottom, although you'll need to protect the foil on the floor. You can also purchase some anti-static bags which will protect many devices from an EMP discharge. You can even buy the ones best suited for solar storms which release electrical charges on a different wavelength compared to EMPs.
If you wrap the devices themselves, be sure to have some cloth inside such as an old t-shirt, jeans, or rags. This will put a little distance from the device to the foil and act as a cushion. By wrapping the devices, putting them inside a wrapped shoebox and placing it inside a galvanized steel trash can with the lid on properly, the chances that your devices will survive an EMP strike are quite high.
Click here to prep yourself even further for the dangers ahead…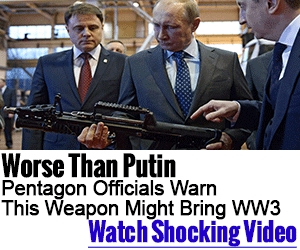 Comments
comments