It seems like navy SEALs always know what they're doing; they walk with so much confidence and purpose. And not only that; you already know that—if you were in a survival kind of context (or stranded on a desert island, as the old adage goes)—you'd want a SEAL by your side. They have all the skills they need to survive any environment.
Well, you can develop such skills as well; there are four important things to learn. The first message we have for you is that, if you want to survive, you simply cannot give up. That's probably one of the most important lessons we can impart to you today. Giving up will get you nowhere. Not only will you not able to focus properly or think straight, but you'll also be more vulnerable. Your enemies—whether they're wild animals, muggers, or terrorists—can sense when you're not at the top of your game; they can read it in your posture, your gait, and the way you move your body. They'll take advantage of these vulnerabilities and use them against you.
The second most important thing we can tell you so you survive like a SEAL is that you shouldn't panic. Ever. It might be true that you're not prepared for any given situation, but that doesn't mean panicking will get you anywhere. Instead, swallow your fears and consider the situation calmly and rationally. What is it that needs to be done? What steps can you take to get yourself out of this mess? By panicking, you'll not only be drawing attention to yourself—attention which, again, others will use against you—but you'll also be wasting precious time. And in the fight for survival, a few seconds can be the difference between life and death.
Third, situational awareness is an absolute must. When you're moving around, always take note of where the exits and entrances are located. Watch out for any suspicious activity, and never stall too long in one place. Always be alert and aware of what's going on; you'll be able to react to it—whether by escaping, moving out of the way, or contacting authorities—more quickly and more effectively.
You'll need to consider things in terms of what goals you can accomplish. What are your short-, medium-, and long-term goals? In the short term, you'll have to survive a dangerous situation, very much in the moment. In the medium term, time limits are not as critical as in the short term, but they still remain important. For instance, during a relatively short time period (perhaps a few hours) you'll have to find food and get yourself shelter. And in the long term—-which, in a survival situation, might be a day or less—you'll have to maintain your food and shelter, and keep moving on in your journey back home.
Living like a navy SEAL is no easy task—but it's definitely doable. After all, they're humans, just like the rest of us; they just have better training and skills, that's all. You can achieve such amazing survival skills if you put your mind to it; we know you can.
Learn to protect yourself better by watching this presentation!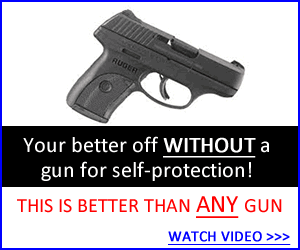 Comments
comments