Do you think that someone is stalking on you? Well, this can be a potential dangerous and very frightening situation. If you have your stalkers, well there are effective ways you need to know in order to protect yourself. This is also an essential way towards preventing the stalker to keep stalking at you.
Who is the Stalker?
Possible dangerous stalkers that you may have are commonly your ex-partners or those obsessed crushed who don't take no for an answer. They may also be your co-worker, neighbour down your street, fellow students or someone you wave or smile to. This may also be a complete stranger who is someone not familiar to you until strange things begun to happen.
Letting Others Know
Tell others. One of the most important thing you need to do is to tell people you trust with regards to the dangerous stalkers who keeps on frightening your life. You may tell your family, good friends, co-workers and others whom you completely trust. Sharing some of your concerns with them will allow you to obtain your needed support. These are also the people that can always have an eye out of you and keep you protected and safe all the time. If the stalker is someone who is a bit close and familiar to you, will then they will be immediately notice and perhaps stop, if they are aware that some of the people around are being watchful against him.
Reacting Safely
If you are receiving anonymous calls, emails or threatening messages, you need to try saving, recording and forwarding them to providers. This is a great evidence that will prove of invaluable and life threating things that your stalker is giving you. You need not to respond to the messages, calls and emails that the stalker will be giving you. This is due to the fact that this can just alert them that you are willing to interact with them. This can also force them to continue showing bad behaviour against you. Phone companies as well as internet providers can offer you effective ways on to determine the person texting, calling and messaging you. After you determine who is really your stalker, report immediately to the authority and ask for their assistance. You also need to go to the nearest local station and report suspicious activities shown by the stalker. Police departments take all types of stalking threats seriously. They will open an effective file and advice you more on the best precautions to take and the type of information that you need to have to fight against this stalker.
Most of the people who have their dangerous stalker seemed to blame themselves with this incident. You don't need to blame yourself but learn how to protect it. Be very careful in all the things you are doing and all the information you are giving to some of the people around to prevent being stalked. In this sense, you are assured that you are completely safe and protected no matter what happened. If you can no longer handle the situation, seek for the assistance of the authority to assure of your maximum safety.
Learn to protect yourself better by watching this presentation!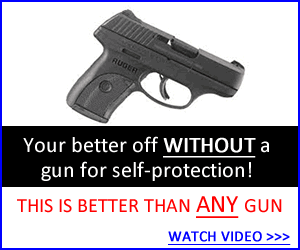 Comments
comments