No one knows when World War 3 will hit. We didn't know when either of the first two world wars would hit, after all. But just because we don't know when it might come doesn't mean that it won't come. Indeed, we're always at risk of falling prey to WW3, whether the war will take place with physical or virtual weapons, or in countries that are developed or not developed.
With all this being said, what can you do to prepare for a potential World War 3? Well, one of the first steps is to never take anything for granted. In the past, global wars were fought on land, on physical spaces, with nuclear weapons and military-grade arms. Today, however, it seems that WW3 might play out on the battlefields of virtual spaces, across the Internet, and across our personal homes and files—we only need witness the fallout from the Sony hack as proof. So, be careful where you keep your information online; use different passwords for everything. If something is exceptionally valuable, leaving it in the cloud might not be the best idea. Don't keep all your money in one place. Make sure you have a good amount of it stored as physical cash as well—if a third world war hits, you won't be able to simply go over to the bank and withdraw your money. Get another source of income—for example, you can work in online marketing, or you can get additional money by playing the stock market.
Another way to be prepared is to take on new skills that will come in handy in situations like those we've been describing. Learn new survival skills—such as how to forage in the wild, how to get access to food and shelter, how to give first aid, and how to make shelter—by going to courses and workshops. Consider taking up running; running away is a skill which can often come in handy if your life's in danger. Don't be afraid to take on self-defense courses, either; courses on using weapons might also be helpful.
Third, get your affairs in order. Clear away any outstanding debts; donate items you don't need; keep your browser history nice and clean. You probably have a lot of online accounts you don't use anymore, too; get rid of those as soon as possible.
Fourth, work out often, and work out hard. Exercising might not seem like much now, but doing it might save your life someday. In addition to running, as we've mentioned before, survival situations will also mean that you'll be carrying a lot of things—packs, clothing, heavy water bottles, and countless others—so you need to keep your body fit and strong.
Fifth, develop your situational awareness. Get into the habit of scanning your eyes everywhere you go, so that you'll be able to keep an eye out for anything that seems out of the ordinary—a person carrying a weapon when they don't need to, people acting strangely, anything. You never know where the next challenges might come from.
At the end of the day, there are several things you can do in the (hopefully unlikely) event that World War 3 arrives. But through all of this, there's one thing that you need to remember: the importance of hope. Never forget who you are, or where you're going—and eventually, you'll make it to your destination. We guarantee that getting ready now—when the country is not yet undergoing a crisis, when the shit has yet to hit the fan—is an excellent decision.
Click here to prep yourself even further for the dangers ahead…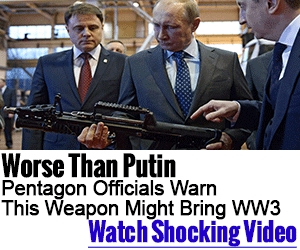 Comments
comments