Dealing with disaster situations is one thing. You're a prepper; you already have an idea of how to procure food, get shelter, and acquire heat and lighting if the worst possible situation comes to be. But what about after the worst has happened? And what if the worst hasn't happened yet—what if the worst is yet to come, after the disaster?
In such a case, there are several steps you can take before such a situation hits. Naturally, you'll have to do all your research. What survival resources and services are offered in your area? Do you have an emergency plan that accounts for every member of the family, including pets? What about other family members that live in your area?
Once you've done all the research necessary, we can get into the nitty-gritty of things. If you find yourself in a post-disaster situation—the aftermath of a catastrophe, in other words—then you'll have to get used to living without utilities, to begin with, since, for instance, a power line might have fallen down. In such a case, a sanitation plan is necessary; in a disaster, your local water might be damaged. So, with that in mind, decide how you'll cook your food and prepare your water.
On that note, you'll need to make sure you have water and food supplies stored up, also. Keep two weeks' worth of water inside your house, and ditto for food. Remember, grocery stores only have enough stored at any one time to last a few days—but you can't rely on that, since everyone else will be flocking to the stores, too. Before anything has actually happened, train yourself in hunting and fishing, and start a garden. Even a small one can help immensely in times of incredible duress.
After disaster strikes, people will be rioting, looting, and committing arson. Realize that, when communal crimes like this happen, even people who are normally decent, likable members of society—perhaps even including yourself—will not act rationally. They might start attacking anything on sight. So, learn how to defend yourself, both with self-defense and with gun
usage. Watch out for the criminals and the gangs that will inevitably pop up, moving through and around the city.
Get better security and alarm services installed in your house. Keep your documents, like passports and birth certificates, in a safe place. Add a home inventory alongside these documents, so that you know exactly what your house contains—and what thieves might run off with.
Be wary of the government. Don't go out of your way to ignore these rules, and be prepared for them. Don't sit around waiting for the government to tell you to evacuate; they often give such orders out when it's too late. If they invoke new measures, such as martial law or compulsory curfews, obey them as much as possible. Also police or government agents might also come around confiscating your weapons.
Dealing with the aftermath of a disaster (natural or otherwise) can be difficult, but it's not impossible. If you follow our steps—and others like them—you'll be well-insured against the problems (and unintended consequences) such a situation might bring out of the woodwork.
Learn to protect yourself better by watching this presentation!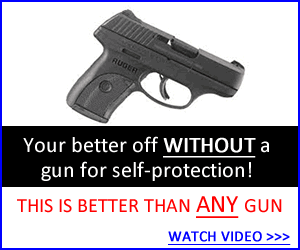 Comments
comments