You went shopping in a mall and the next thing you know you are inside the trunk of a car, your both hands tied and you have no idea where you're going. Being kidnapped is a terrifying experience and it happens mostly within a blink of an eye. It happened so fast that you didn't even see it coming and never had a chance to strategize on how to escape your captors. Most of the time, abduction victims are released unharmed but one wrong move can turn it into a deadly situation that depends mainly on how you behave and the decisions you make during abduction.
The first thing that you can do is to try to thwart the abduction. Try to escape as much as you can. The hostage-taking itself is the most risky stage and if you can resist, do so. Yes, it is too dangerous but the chances of escape are there. Look around you and if you see other people around, you can cry out for help and show resistance as this might capture the attention of people around you. In worst case scenario where you are outnumbered and if your abductors are armed, there is nothing you can do but to cooperate.
Do not panic. It may be impossible to calm down during this kind of situation and there will be adrenaline rush, but maintain your composure. It is terrifying but the sooner you gain full control of your mind, the better is your chances of safely escaping your abductors.
Be observant. You may not be able to use your eyes because higher chance is you are blindfolded, but you can use your other senses. See if your captors are armed, well-prepared and in good physical condition. Observe your surroundings and know where you are being taken. By knowing this, police can easily track you down during rescue operation. Also, be mindful of your condition. You have to be in good condition if you attempt to escape. You may try to develop rapport to your captors as this may help you deduce and predict your captor's next move and even make a plan on how to get away. Building a connection and making your abductors at ease can help build a sense of respect and they will be psychologically swayed by making you look human in their eyes, therefore the likelihood of hurting and killing your will be minimized.
Distinguish your abductor's motive for kidnapping. If their main purpose is to ask money or ransom then they surely want you alive. But if you are being abducted by a serial killer or sexual predator then keeping you alive might not be an option. Being aware of their motive will help you plan ahead on when and how to escape.
Maintain a survival attitude. Surviving an abduction mostly depend on your attitude. Prepare yourself with the possibility of being a hostage for a long time. You should be physically and mentally prepared for it. Be strong and never lose hope. Maintain your dignity so do not cry or beg them to release you. Never ever attempt to escape. Do it only when the time is right.
Learn to protect yourself better by watching this presentation!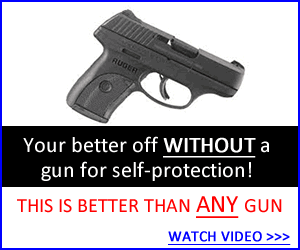 Comments
comments