If you're going away on vacation—particularly a long vacation—then there are many things you'll want to do to protect not only your family, but also your home. Who's to say robbers won't break in and bust the place up? No one, that's why you can never take the way criminals act for granted, no matter how predictable they seem. So, here are some things you can do if you're going on vacation for a while.
1- Unplug everything.
You must unplug everything in your house—and no, we don't mean that metaphorically. Actually, you literally need to unplug everything—computer, toaster, fridge, oven, the whole shebang. This is so much safer than simply turning them off, and it will also save you moolah on your electricity bill.
2- Get help from a trusted friend.
He or she can not only pick up your mail and water your plants, but also make sure that everything is as it should be. (Of course, those things are necessary, too: it's not fair to plants to kill them out of laziness, and a buildup of mail will clue everyone in to the fact that you're out of town). A friend can also drive by your home every so often and see how things are progressing.
3- If you're going to be away for more than a week, consider notifying the police.
Sure, probably nothing will happen—but it never hurts to be safe. If they don't have many people on patrol, the police might even drive by every so often to ensure that everything is safe and secure. And if something does end up happening, they'll know how to notify you right away, since you already gave them all the necessary details of where you'll be staying.
4- Don't keep the lights on in your house.
If you have the lights on the whole time you're gone, it looks suspicious to potential robbers and thieves, who will recognize this tactic. Moreover, it will cost you an awful lot of money on your electric bill (and, it goes without saying, it's not exactly good for the environment). Instead, get a timer for your light switches, which will turn your lights on and off as per a set schedule.
5- Put your spare key away.
Your spare key won't be of much help if you're traveling in another county or even within the country. Not to mention, potential thieves obviously know about the key-under-rock-or-ostentatious-plant ploy. Thus, take your key out from wherever it's hiding—whether that's under your doormat, in the mailbox, or in the flowerpot—and put it into storage for the present.
Don't be caught off guard! Watch this video and 'arm' yourself to the teeth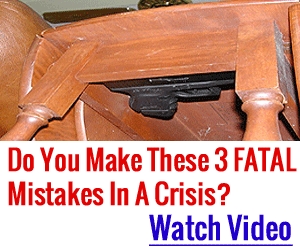 Comments
comments