Are you going to jail anytime soon? Naturally, this isn't the most pleasant experience—but sometimes, you haven't got a choice. Your new home notwithstanding, there are several things you can do to make living prison a better, safer place for you to live in. That sounds like an oxymoron, but it really isn't; you can definitely prepare for prison—just as you would for a camping trip. A very intense, very long camping trip where everyone might hate your guts, mind you, but still.
To begin with, you may (or may not) be surprised to know that learning some manners are essential to living in the prison environment. Don't insult anyone; treat everyone with respect; don't get into people's personal space. Most of all, don't pick fights with people, even when they're lying, cheating or stealing. This way, you can unobtrusively go about your business, and hopefully the other prisoners will leave you alone.
It's an unfortunate fact of life, but in prison, people spend time with those of the same race, and tend not to socialize as much with those of other ethnic origins. Be polite to everyone and treat them all with respect—but don't be surprised if they don't want to go out of their way to associate with you. It's probably nothing personal.
While we're still on the topic of interpersonal relationships, it might happen that your prisoner friends stop being friends with you for whatever reason (as in the outside world—as though being in prison didn't suck enough already). Be sad over it, and then move on. There's not really much else you can do.
Be ready to fight at all times: work out in the gym and outside, when you get the chance. (Let's face it: getting ripped in prison is probably one of the best parts of being in the place.) Attacks are most likely to occur when you're in bed or in the shower, but expect them at every time of day, even when you're asleep. Don't accuse anyone of anything—but always be on your guard.
Avoid drugs. This sounds obvious now, of course, but—once you're in that environment—it might be easier to get your hands on drugs than you'd think. But you need to avoid them at all costs; you don't want to risk making your sentence any longer—or, for that matter, getting the attention of the wardens—by dabbling in the stuff, whether it's hard or soft.
Bring some cash with you to prison, if you're allowed to do so. That way, you can purchase necessities, such as pens and paper so that you can send letters to your family.
Don't act like you don't know stuff. Instead, listen and observe; don't talk so much, until you know the rules of the game. You don't want to reveal your ignorance and prove to others that you're a fool. Make sure you know where everything is and where the employees are working. Also, take note of fire escapes. You never know what kind of disaster might happen while you're in prison. At the end of the day, being in prison is at least a little bit less depressing than it appears. I realize that's not much consolation, but it's good to know that there are things you can do to alleviate your troubles. Good luck!
Learn to protect yourself better by watching this presentation!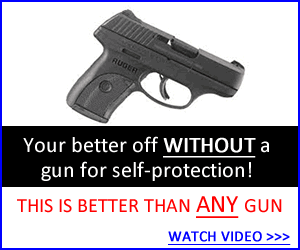 Comments
comments