The main problem in survival is to keep from being killed. In times of crisis, revert to your base instincts, take off your cloak of respectability and be animal-like in your quest for survival and this is where camouflage comes in.
All measures to conceal yourself and equipment from enemy observation are the essence of a camouflage. Camouflage is either artificial or natural. Camouflage is artificial when any man-made material or substance is used to stay hidden by using change outline, hues or texture. Camouflage is natural when materials found in nature are used.
The two major factors in camouflage
Camouflage discipline is doing what is necessary to construct your camouflage and maintaining it.
Three techniques are used in camouflage: hiding, disguising and blending. (i) Hiding is concealing completely body from being seen by moving or staying behind thick vegetation: (ii) Disguising is using tricks convincing the enemy to make the false conclusion regarding your whereabouts or identity; and (iii) Blending is achieved by skillfully matching person with the surrounding area, to a point where you become part of the background.
The art of camouflage and concealment
Keep away from patterns and shapes
The human eyes easily pick out colors, patterns and shapes, but animal eyes don't. Animal eyes do not perceive irregular patterns and shapes. Hunting outfits, like a ghillie suit have irregular shape and are patterned similar to bushes, tall grasses, and shrubbery.
Lessen movement and noise
Hunting in the woods can be noisy as you are likely to step on be twigs or bundle of dried leaves. While noise may not be inconspicuous to people but they cause for alarm for animals' sensitive hearing. Understanding animal senses can greatly enhance your tactics of camouflage concealment.
Eradicate your scent
You can purchase scent killers in many outdoor stores in your area. They hide your scent and are very handy. Some animals, especially deer, developed exceptional smell sensation.
Get rid of your shine
Your skin is susceptible to light reflection, or what hunters call "shine". Hunters used make-up or cover their faces. Cover your gun and scope with dark clothing to conceal them as metal objects will reflect light.
Make environment your ally
Be one with your environment. Use camouflage suits for specific purposes and seasons. Here is the guideline: suits with brown patters – for brushlands; suits with black & green patterns – for Marshland and woodland; and white patters – for snowy terrains.
Utilize terrain to your advantage
The wilderness offers a lot of hiding space. You just need to know how to maximize them. Hunters made much of a tree to conceal hunters them while stalking their prey.
Stay concealed in secluded areas
Find an area where you are entirely hidden to maximize your camouflage. The best places are secluded areas, like shrubbery and bushes. It, can keep you well hidden because they can keep light away.
Final words
More than just wearing special patterns and shapes, camouflage concealment requires you to do all of these techniques. You can be effective by learning to maximize your environment, understanding your enemy and prey while using your senses to the fullest. Acquire the art of practically becoming invisible to the naked eye. Lastly, adopt BLISS. BLISS stands for Blend, Low silhouette, Irregular shape, Small, and stay in Secluded areas.
Learn to protect yourself better by watching this presentation!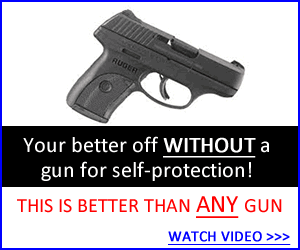 Comments
comments