Everyone has a right to defend themselves, but the question for many is what are the limits that should be employed when protecting you, your family and friends, and your property. While the law provides for a wide tolerance for those who practice reasonable self-protection, it pays to understand the unwritten rules of self-defense not only to keep on the right side of the law, but also to employ the best discretion when faced with having to defend yourself.
Here are a few of the rules that you should keep in mind in terms of proper self-defense. Always keep in mind your survival instinct and employ it when necessary to help you make the best decision.
Take Steps to Avoid Confrontational Situations
The best self-defense is never having to be put into that situation in the first place. This means practicing a little patience, forethought, and common sense in everyday situations so that unnecessary confrontations can be avoided. Consider that most people who engage in fighting are those who know each other. Being attacked by strangers is not as common, but even in such circumstances it's possible to avoid such confrontations.
Park Your Vehicle Under a Light
Keep Your Distance
Stay Out of Vulnerable Areas when Alone
When it Doubt, Turn Around and Ask for Help
Get Proper Training
You do not have to become a black-belt, but it does pay to know a few moves and practice them regularly so you can protect yourself. To keep things simple, learn how to break away from being gripped and how to stop someone at a distance. By knowing just a few self-defense moves, you can properly protect yourself in most situations.
Call Attention to Yourself
If attacked or about to be attacked, scream for help. Do your best to make anyone within earshot know that you are having to defend yourself. You might not get an immediate reaction, but in many cases those who hear you and understand what is happening will call for help if not arrive on the scene themselves. Even getting one person to come to your aid may stop the
attacker and cause them to flee, so don't be afraid to scream and scream loudly to alert others to what is happening.
If You Can Flee, Do So
Putting an attacker on the ground as part of your self-defense training is only a partial victory. If you can flee the scene successfully, do so. There is no need to stay around as you might not be so lucky and the attacker may have accomplices nearby for assistance. So, if you can get away, do what you can to leave the scene.
Use the Necessary Force to Protect Yourself
The old saying, "it's better to be safe, than sorry" applies when using self-defense. This means that you should feel free to use whatever force is necessary to stop an attacker from threatening you and those you love. This may mean using deadly force as well depending on the circumstances, so if you decide to draw a gun because it is necessary, be prepared to use it.
By relying on the rules of self-defense, you can maximize your chances for survival and those whom you are protecting.
Learn to protect yourself better by watching this presentation!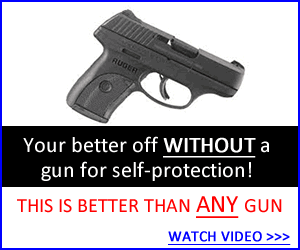 Comments
comments