If a disaster is coming, and coming soon, there's not necessarily a lot you can do; power lines might already be down, emergency procedures might already be in place…. Or hey, vandals could already have started attacking your city. But none of this means there's nothing you can do. On the contrary—in the event of a catastrophic situation—there are several tips you need to know for last-minute emergency preparedness. With this article, we'll discuss some of the more important ones.
Do your laundry right away. Charge your electronics (laptop, cell phone, etc.), right away, too. If you have time, hide any valuables you have lying around—you don't want bandits breaking into your house for all your cool stuff.
Fill large containers with water from your tap. Store the containers, seal them up, and take steps to ensure that your kids and pets won't be able to access them hurt themselves. Also fill plastic bags (quart- and gallon-sized) with water; when frozen in your fridge, you can use them in the cooler. If you're worried about your stuff getting destroyed by damage, store them in the dishwasher; this appliance is waterproof.
Grab emergency clothes: sweaters, warm pants, and bandanas (that piece of fabric can always come in handy in survival situations).Accessories you'll need include rain jackets or ponchos, boots or durable shoes, umbrellas, and work gloves. These garments must be easy to access in your closet, so that you can move about more quickly. Also grab wet wipes, as well as hand sanitizer. Menstrual supplies are necessary as well. Toilet paper is very important (how else would you wipe?). And if you carry, take your sidearm, bullets, and holster with you. You never know when you might need them.
Bug out bags are essential in survival situations. These include necessities like flashlights, supplies to create fire (flint and tinder, a fire-starter, etc.), duct tape, rope, water bottles, food—trail mix, granola bars, canned food, freeze-dried "astronaut-type" food, and so forth—and cooking supplies like plates, cups, sporks. Portable stoves are very important, if not outright necessary, as is food for any pets that you need to take with you. Don't forget to take medication with you, either. You can't always make them in a last-minute situation—since "last-minute" could mean literally "three seconds ago" or "several hours from now"—so, to be safe, prepare them beforehand.
One final note: take pictures of every room in your home, since that will help you deal with insurance problems. Actually, you can also do this during times where you aren't, you know, running away from dangerous emergencies, which is admittedly more convenient.
So, now that we're done with this article, hopefully we all know a bit more about last-minute emergency preparedness tips—and hopefully that information will help you in case something does happen. After all—much as we might hope for a positive, lucky future—such a future is not necessarily guaranteed. As Boy and Girl Scouts say, better safe than sorry!
Don't be caught off guard! Watch this video and 'arm' yourself to the teeth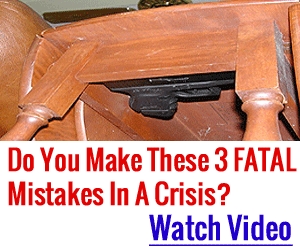 Comments
comments