When it comes to protecting your home there are certain steps that you can take which will make your property less likely to become a target. This is because thieves like anyone else are going to select residences that offer the least amount of resistance for what they want. The less vulnerable you make your home to being invaded the more likely thieves will simply find another, easier target to hit.
Here are five simple, yet powerful ways to protect your home against thieves. Each of these measures is fairly easy to install and most of them are designed to inform potential intruders that your home is not to be invaded.
1) Clear and Open: While trees and bushes around the home are a nice feature, they also can be used by thieves to conceal their entry into your home. Look around your home to see if an intruder can use the natural cover to enter your home and make the necessary corrections. This may mean trimming or even removing some bushes or trees depending on how much cover they provide.
2) Outdoor Lights: One of the simplest and most effective means of protecting your home is lighting up all the areas where a thief can conceal themselves while trying to enter. This means all the darkened areas that offer easy access such as the entrances and windows on the first floor. You don't have to light up your home like a cinema during opening night, but you do need to shine a light on areas that otherwise make for easy entry.
3) Deadbolts & Bars: A big deadbolt lock on the front door is a good start, but all doors that enter your home should be similarly protected. Furthermore, entranceways that are seldom used should have bars on them to prevent easy entry. You should also look at windows that are vulnerable and consider putting bars over them. You don't have to use bars on all windows, but ones that are hidden from view should be considered.
4) Neighborhood Watch: Joining or forming a neighborhood watch offers excellent protection that does not cost you a dime apart perhaps from the sign proclaiming such protection. The neighborhood watch simply reports suspicious activities in the community such as frequent drive-bys or unusual activity at a home where the residents are not currently present. Thieves do not like neighborhood watch patrols as they toss a monkey wrench into their plans of breaking into a home. So, join or form a neighborhood watch in your community.
5) Getting Security Alarms: Having security alarms on your residence offers excellent protection, especially if the thieves know that they exist. Quite often, a thief who sees a sign in the yard that proclaims the home protected by a well known and respected security company will simply drive on to find another location.
All in all, how you demonstrate your home security to thieves is a vital part of keeping them away from your home.
Don't be caught off guard! Watch this video and 'arm' yourself to the teeth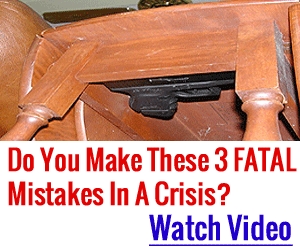 Comments
comments