Smokey the Bear used to say, "Only you can prevent forest fires." Well, that's true—you can prevent forest fires. you can also deal with them, should they happen to come up while you're in the wilderness.
You might be wondering what some of these magical tips are. Let's dive right into it!

First, how can you prevent a wildfire from developing in the first place?
Ultimately, there are several solutions. Clear debris, like leaves and stones, from porches, decks, eaves, and gutters. As a result of this, embers will not be able to ignite outside your home. Make sure there are no flammable materials, like propane tanks or stacks of wood for fireplaces, within 30 feet of the foundation, outbuildings, garages, and sheds of your home, including your porch or deck. You should also get rid of any dead vegetation that's underneath your porch or deck, and which is located within 10 feet of the house. Trim your trees so that their lowest branches are six to ten feet above the ground.
Second, how can you be prepared for a wildfire?
Well, you definitely need to get an emergency supply kit. Put it in a safe place in your home, and leave one in your car as well. Develop an emergency plan for all the members of your household, including pets, and practice it with them so that everyone is familiar with the routine. Also arrange two routes for you to evacuate your neighborhood, and decide on a meeting point in case you get separated. Moreover, stay alert for weather alerts; you need to be aware of all the weather and environmental conditions that could affect you in the near future.
Third, what can you do when a wildfire is actually happening?
If you're in your home, put your emergency kit and other emergency supplies in your car, and move outdoor furniture and plants in wooden containers inside or far away your home. Close the openings in your home, to prevent embers from getting in; don't forget the doors and vents of your attic, basement, and garage. Connect your garden hoses together, and fill up pools, hot tubs, tubs, and other large containers with water. Firefighters can use these to deal with the fire. Leave as soon as you possibly can, even before you're given orders to evacuate.
If you're in the wilderness, be sure to extinguish any fires you make yourself, such as at a campsite. Don't try to outrun the fire, since success isn't guaranteed. Instead, you should find a body of water, like a pond, that you can crouch in. But if you can't find a body of water, find a "cleared, depressed area with little vegetation," according to National Geographic, lie low against the ground, and cover yourself up with soil, a blanket, or wet clothes. Breathe air that's closest to the ground, as it's less likely to be contaminated with smoke, and breathe through a moist cloth.
So, now that we know all of this, it might be time to consider altering the iconic words of Smokey the Bear. Only you can prevent forest first…or deal with them once they've already started. After all, it's a new generation, with its own new set of survival-related challenges. Good luck to you, Smokey—we hope that you continue inspiring generations to come.
Don't be caught off guard! Watch this video and 'arm' yourself to the teeth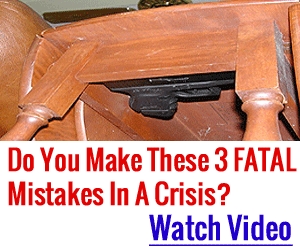 Comments
comments